Recruiting via WhatsApp
Open the easiest application channel and fill open positions quickly with automated interviews.
Simple and intuitive
Candidates jump to the WhatsApp application via a link in the job posting or by scanning a QR code. Once there, they proceed intuitively through the automated PitchYou interview. Conducting an interview is more fun than formulating CVs and cover letters. Selfies and videos create a personal impression. Thanks to gamification elements, 87% of all applicants finish a PitchYou interview they have started.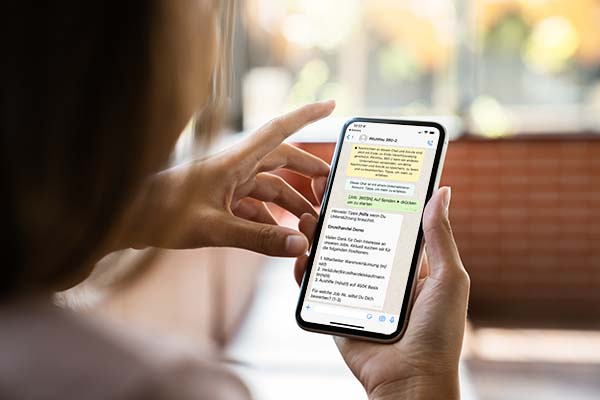 Application via WhatsApp
People can apply easily and intuitively via WhatsApp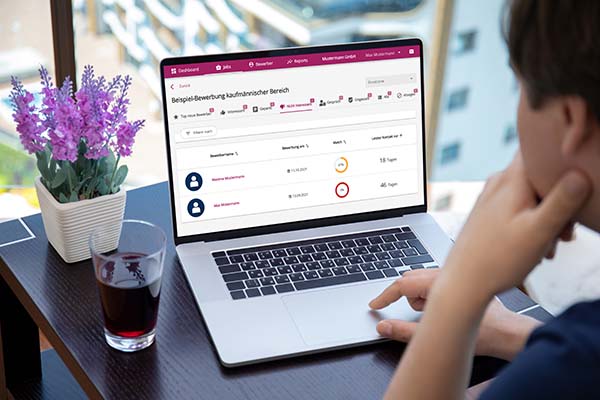 Recruiting via WhatsApp - Structured and secure
All decision-relevant information
High-quality applications
Request exact, decision-relevant information in a structured way. Without a CV and queries. Your employees do not have to use WhatsApp for this, they only use the PitchYou application - GDPR compliant! The ready-made questionnaires are sent to the candidates automatically. Candidates can apply whenever they feel like it, and receive direct feedback anytime and anywhere - 24/7!
Effective communication
WhatsApp messages are read within max. 15 minutes and answered quickly. The built-in referral marketing provides up to 20% more applicants. The PitchYou matching algorithm allows your employees to identify suitable candidates immediately. Reports can be viewed at any time and downloaded as an Excel file.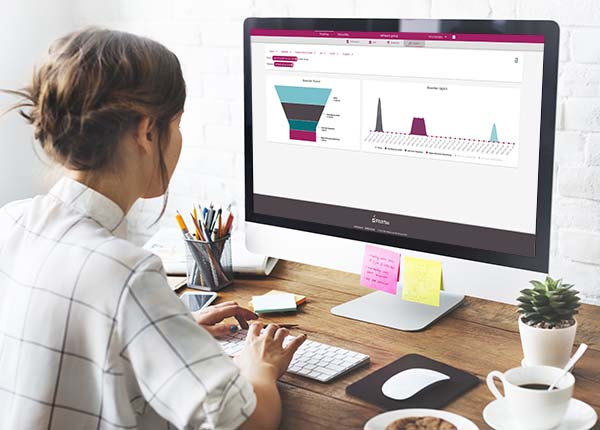 WhatsApp as an effective communication channel
All relevant information at a glance
Your advantages with PitchYou
Language Diversity
PitchYou interviews are available in all languages thanks to the integrated automatic translation function. This means that applicants do not even face any language barriers in the first place
Efficient Recruiting
Individual or ready-made PitchYou interviews use targeted questions to show whether the candidate is professionally suitable for the position and has the necessary motivation
Digital Media
Applicants and recruiters can send and receive photos, videos, scans and voice memos. Learn more about your applicants by integrating photos and videos
Preferred Channel
WhatsApp is the most popular messenger service. Use of the channel is intuitive
Job Menu
Candidates can have a job menu featuring the various vacancies available to them displayed via a link or a QR code
PitchYou
With PitchYou, you take care of candidates from the first contact with the job posting to the pre-selection. Find out which candidates really suit you with PitchYou and save valuable resources!
Job posting
Candidates will become aware of your current job postings from your career site, job portals, social media ads and postings, point-of-contact notices, and many other channels. Once your jobs have gained attention, you can open the WhatsApp application channel to your candidate with PitchYou. The candidates jump off to the WhatsApp application via a button/link in the job posting or alternatively by scanning a QR code.
Application
As part of the WhatsApp application, applicants go through an automated question-and-answer game so that you as the recruiter receive all the relevant information. Thanks to gamification effects and intuitive operation, 87% of applicants currently complete the interview.
The questionnaires can be customized. Alternatively, you can choose from ready-made questionnaires.
Preselection
The information from the interviews conducted will be transferred to your existing applicant management system. If you do not yet use an ATS system, you can also easily view the information in the PitchYou application. By weighting the questions beforehand, the matching algorithm also shows you which candidate(s) are the best match for you and your relevant criteria. If you still have questions, you can contact your candidates individually via PitchYou Chat.
RecruitMe - Screening and Onboarding via WhatsApp
Get to know your candidates even better through assessments via WhatsApp. You can contact and support interesting candidates regardless of where they made their application throughout the entire process, right up until onboarding via the WhatsApp channel.